Brexit Watch Devon: Real Jobs, Real Lives, Real Stories
Offshore Shellfish: An important article from Devon for Europe supporter, Alan Urdaibay
All images copyright Offshore Shellfish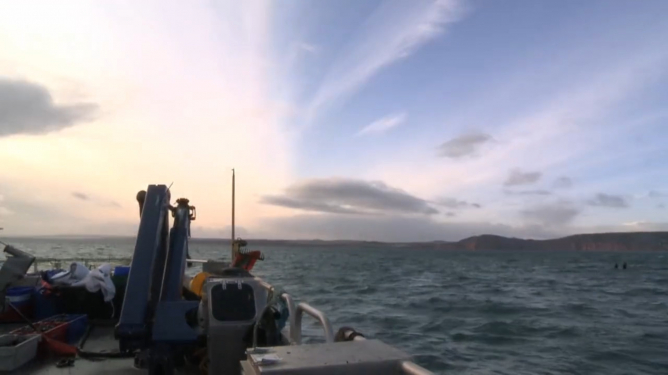 February 2020
"Over 2 months after the election and there is as yet no fisheries minister, or if there is, she's in hiding." This is what Nicki Holmyard tells me as she sips Redbush tea in The Curator, a small coffee-shop in Totnes: a small Devon town with a vibrant coffee culture and a good bookshop. Nicki, an aquaculture journalist and her husband John, a marine biologist, began their journey together 30 years ago and set up what became Scotland's largest rope-grown mussel farm on Loch Etive, the sea loch that gave its name to the clipper of Joseph Conrad fame. It was then that they helped to pioneer the presentation of mussels that we are familiar with in our local supermarket – mussels in a bag swimming in a sea of white wine sauce. Their ambitions were not confined to these achievements, however, and in 2010 John and Nicki sold their business to travel the world for nearly three years. They took in China, Vietnam, New Zealand, Europe, the USA and South America – all with a view to developing a new way of cultivating mussels.
And on their return, they pioneered a new method of mussel farming in the open ocean. Instead of seeding mussels on the seafloor and raking them up with dredges, mussels are grown on continuous ropes suspended below the surface, which are held in place with 6 metre seabed screw anchors. Not in an estuary or inlet, but 3-6 miles out to sea. The mussels feed on natural plankton which washes by them in the tides and currents.
Perhaps this all sounds simple, but it is not. A great deal of expertise, technology, and investment was needed to bring this about, including the commissioning of a specialist 25 metre catamaran from New Zealand. It is the Holly Mai, capable of harvesting 40 tonnes of mussels at a go. Nicki tells me of their excitement as she and John watched the Holly Mai via webcam on its journey through the Panama Canal on the deck of a container ship. The Holly Mai gives the Holmyards access to the choppy waters of the Channel, working in waves up to 3 metres in height. Pretty rough. What they do is all new, and has never been done this way before in Europe.
It has all been worth it: attached to the ropes suspended in the sea are the blue mussels they harvest, which settle naturally as microscopic spat in late Spring. Undisturbed by predators such as crabs and starfish that roam the sea floor, these bivalves can devote more of their energy to growth. The resulting mussels have thinner shells and are meatier than those grown on the seabed. And the mussels produced in this way have a distinctive taste – not at all 'seaweedy,' NIcki tells me, although that is not bad in itself, merely a matter of preference.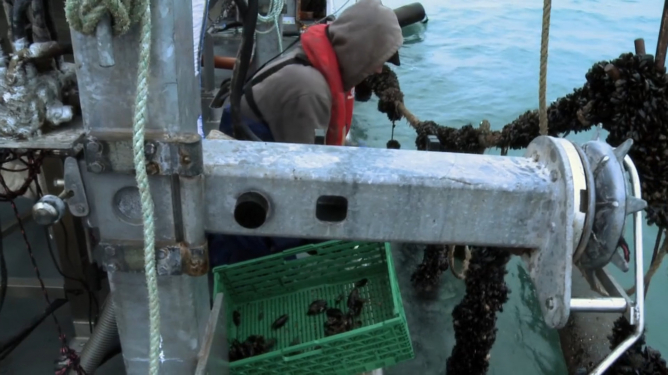 Growing mussels on ropes is much more friendly to the environment too, because this way the seafloor is not damaged by dredging. Also, the growth of mussel shells removes carbon dioxide from the atmosphere in perpetuity, and acts as a carbon sink. The production methods used are Best Aquaculture Practice (BAP) certified, meaning they reach a quality standard that has worldwide recognition, and John and Nicki are also in the process of getting organic seafood certification.
It might seem to an outsider that the mussels grow themselves, but there are very significant capital and labour costs, expensive equipment, a marine laboratory, a small flotilla of boats, and fuel for 3 hour round trips to the harvesting area (there's no popping out for half an hour: it's all day or nothing Nicki tells me). Besides this, two trucks, each capable of transporting 20 tons of live mussels, are contracted to provide the delivery arm of the business.
The company has a Crown Estate lease area totalling 18 square kilometres of seabed, which is currently one third developed. The aim is to fully utilise the lease, building out the farm to its 10,000 tons per year capability. But it is all in jeopardy. The brakes are full on. As she tells her story Nicki is calm, philosophical, phlegmatic even, but there's no doubting the commitment she and her husband have made to this business. They have not only invested money, but their lives.
Brexit Impact:
As from 1st January next year, once the Brexit transition period is over, the future is uncertain for sales to Europe, where the majority of the mussels are destined. Trucks will have to transport the live mussels through a Border Inspection Post, which is currently designated as Boulogne sur Mer in France, where they will be inspected before travelling on to Holland, the main hub of northern European mussel processing. One Border Inspection Post for ALL live shellfish shipments is nowhere near adequate. It is also miles away in the wrong direction from the main ports of Dunkirk and Calais.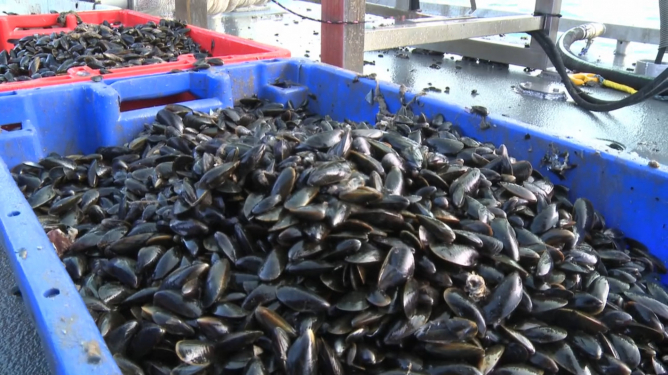 The French authorities will inspect the mussels to ensure all the paperwork is correct, and that they meet European health and quality standards. If laboratory tests are needed, it is likely that the French will be in no hurry. Each minute the live mussels spend in the trucks means the water runs away and their weight diminishes. And if the queue to get in, or the wait for inspection is too long, the driver must rest for 8 hours before he can continue the journey. Weight and freshness determine the sale price, so all the time the value of the cargo is draining away.
But that is not all. With the end of the transitional arrangements, European regulations will place a special obstacle in the way of mussel imports into the EU – one that does not apply to mussels produced within the EU. It's all to do with water quality. At the moment mussels can be grown in water that is either of A or B quality. Water in the Channel is sometimes A and sometimes B. Mussels that are grown in grade B water need to undergo a purification process in UV filtered water before consumption. This currently takes place in Holland, as the Holmyards do not have their own facility, but from January 1st next year there is a real danger that mussels grown in grade B water will be refused entry into France. Can anything be done about this? I ask Nicki. Well yes, but their efforts have been stymied by a local refusal to provide planning permission. Despite complying with the necessary regulations, attempts to get planning permission to build a local water purification plant have so far been blocked, with severe consequences for future sales.
Nicki seems perplexed rather than frustrated or angry, as she tells me the hand that Brexit has dealt her. What I see is the polar opposite of the forces which have driven and still drive this national self-destruction – the inchoate anger, fury and bitterness of it all. Nicki shows no trace of resentment when she says that Brexit may put paid to it all, and perhaps this is the thing I most admire in her. It speaks of all those things we British like to say of ourselves, but it is Britain that is threatening her life's work, and no-one else.
So what of the future? Nicki and her husband are looking elsewhere. She has just come back from Holland where she presented the case for starting a mussel farm there. The locals may not be too keen, especially as the Dutch mussel farmers are conservative and prefer to grow their mussels on the seabed, but Nicki says there were definite signs of interest, especially from the Dutch government who are keen to get a pilot project underway.
So the Holmyards have taken to heart Kipling's counsel to "stoop and build 'em up again with worn-out tools." I'm sure John, who would have to come out of retirement to restart in Holland, would not appreciate any reference to being worn out, and I'm sure it isn't true, but I think you get the message. And the business here? Nicki shrugs. Who knows?
Oh, and the fisheries minister? There is dismay in Nicki's voice. The failure to appoint one after such an interval shows just how little the government cares about the fishing industry. There's no way it will take precedence over the needs of the City of London. And there's no way we will have sole access to our waters and sell our fish into European markets. It just won't happen. The fishermen are kidding themselves. They'll have to compromise. And mussels? They'll be even further down the queue.
And us? It is entrepreneurs such as Nicki and John on which this country depends. We'll miss them if they go.
PS – the fisheries minister has finally been appointed. But she knows absolutely nothing about fisheries or aquaculture. Oh well… what did we expect?
If you want to make a contribution to the BrexitWatch Devon initiative, please submit fact-checked, verifiable information to brg@devonforeurope.org. IMPORTANT: please put Brexit Watch in the subject line.