Born 1945 in England
Both my parents were German, my mother Jewish. They eloped to England in 1932, seeing which way the wind was blowing in Germany. A year later their passports stamped them 'undesirables', stating that Germany could not vouch for the consequences if they attempted re-entry.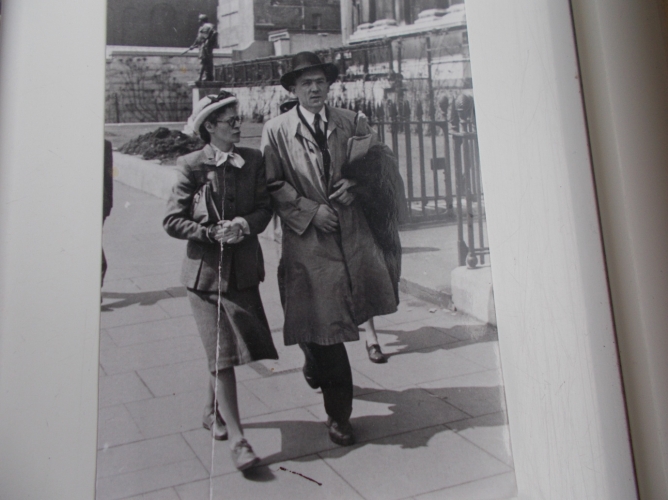 My immigrant parents in the 1930's or 1940's
My father became an English apple grower, my mother solved cryptic crosswords and read British crime fiction. I have lived all my life in England, over half of it in Dorset where I brought up a family and taught the clarinet. I have sole British nationality, but my parents' abiding cross-channel outlook rubbed off on me. Family and friends scattered throughout Europe have been a constant throughout my life, as has enjoyment of European languages and culture, which led to recent MA and PhD studies at Exeter University around a German clarinettist and a regrettably forgotten German writer.
One of my mother's sisters, a burgeoning classical scholar, benefited from the UK's earlier cross-channel outlook: the Academic Assistance Council, founded in 1933 by William Beveridge to help politically threatened academics, offered her a position at one of the Oxford colleges, saving her from dismissal and worse under Hitler and launching her on a career of repute.
Statistically I belong to the allegedly pro-Brexit-voting demographic, but I have continued to identify strongly as European. Having enjoyed an increasingly free exchange and common identity with mainland Europe throughout my adulthood, I feel deep disappointment at the prospect of the process going into reverse. As a schoolchild in the post-war 1950s I proudly countered accusations of being German by insisting I was more British than my accusers, my family having chosen Britishness while their nationality was a mere accident of birth. I cannot boast of sharing the Britishness of Brexit.
Veronica Butler - January 2018