Strong winds and driving rain could not stop members of Devon for Europe from waving the flags for both the EU and Devon at the Wills monument in Totnes on Saturday 21st October.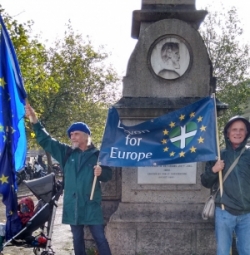 Car horns tooted in support, people stopped to congratulate the brave souls, and some even joined in flying the flags high into the wind.

Devon for Europe is a local branch of over 700 members campaigning to keep the UK in the European Union. It is a cross party organisation actively collaborating with other groups in the South West, and affiliated to Britain for Europe.

Members of the group will be travelling to Westminster on Tuesday 24th October to lobby Devon MPs and attend a pro-EU conference.