Two Thousand Five Hundred People March and Attend Rally in Exeter City Centre on Saturday.
Ben Bradshaw tells activists from all over the South West that Brexit is turning out to be a serious mistake for our country and that the British public must be given a say on the terms of any deal.


Remain campaigners came from the tip of Cornwall to Bristol, from Cheltenham to Bournemouth to join a march and rally for Europe organised by local organisation, Devon for Europe.
The marchers, waving their EU flags and #StopBrexit and #FinalSay placards wound their way along Exeter's streets from Belmont Park to the rally venue, Princesshay, in the centre of Exeter, there to hear speeches by MPs, MEPs and many others.
Ben Bradshaw, the Labour MP for Exeter, was the first to speak, saying,

"I'm delighted to be joining people of many other parties and none, united in our view that Brexit is turning out to be a serious mistake for our country and that the British public must be given a say on the terms of any deal. It is much more expensive, complicated and difficult than people were told during the Referendum and the promises made then broken or forgotten. We must think of the next generation's future, as we reach vital decisions over the next few months."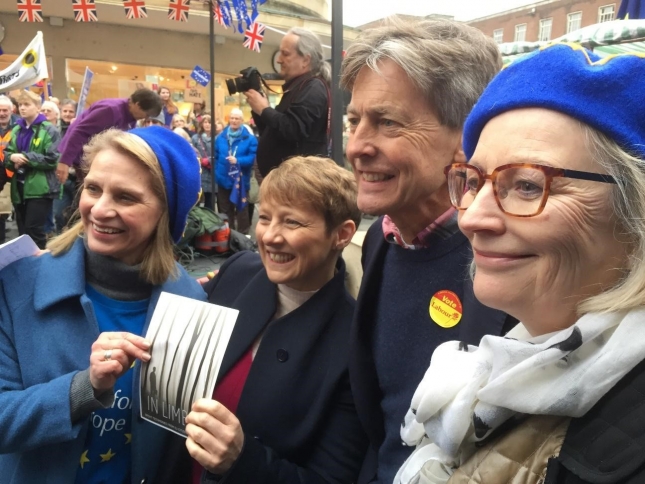 Wera Hobhouse MP, Clare Moody MEP, Ben Bradshaw MP and Julie Girling MEP
The speeches by MPs and MEPs were interspersed by speakers representing local youth, university, farming and councillors. There were also speeches from Thomas Haynes, from Labour Youth and Sam Campling, Chair of Devon and Cornwall Young Liberal Democrats.
Molly Scott Cato (Green) was the first MEP to speak. She said,


"Each time a promise cannot be fulfilled the Brextremists blame our EU friends, driving us further apart and making a tolerable Brexit less likely. It is becoming clearer by the day that Brexit is all pain for no gain. We must resist; leaving the EU is not a done deal.
"This rally will demonstrate the strength of opposition to the government's extreme Brexit plans and will serve as a reminder that our democracy allows us to change our minds. We must have another chance to consider the future of this country.
"It's time to campaign for a people's poll on the final deal, so everyone, and most specifically a young generation who weren't able to vote in the EU referendum, can have a say on whether they want to accept the deal the government has negotiated, or remain as fully-fledged members of the EU."
Julie Girling, who was elected as a Conservative, but now sits as an Independent, was the next MEP to speak. She made it plain that she wanted to stay in the EU as it would be better for Britain. She said that many Conservative MPs agreed with her.
Clare Moody, Labour MEP, who in January had given a very well received speech at an Exeter meeting organised by Devon for Europe, said,


"As we approach the anniversary of delivering the Article 50 letter, despite the agreements reached to move negotiations on, we are no further forward in finding solutions to the most intractable of issues – the borders of Northern Ireland and Gibraltar. Coming together in Exeter is a great chance to show that there are very many citizens who do not accept that leaving the EU is good for our country and that we know Brexit can and should be stopped.'
'As hard as I look, I do not see anyone around this great region who will be better off by Brexit. I do see much uncertainty and hear too many accounts of the unforgiveable insecurity that many citizens are experiencing. This is not just damaging for individuals and families, it is damaging to us as a society.Today is an opportunity for us to stand together and remember our great tradition of being an open and welcoming country."
Wera Hobhouse, Liberal Democrat MP for Bath and on the Committee for Exiting the EU) said,
"Brexit is not inevitable and there is still a lot to play for. The DUP-backed Tory government is tying itself into knots over issues like the Irish border and fisheries. All the people in this country who are unhappy with where Brexit is going need to rally together and fight. We will not stop Brexit without a fight but our country's future is worth fighting for. Politicians won't change Brexit, but the people can. We need a referendum on the deal. It is the only democratic way out of Brexit. The people must finish what the people have started."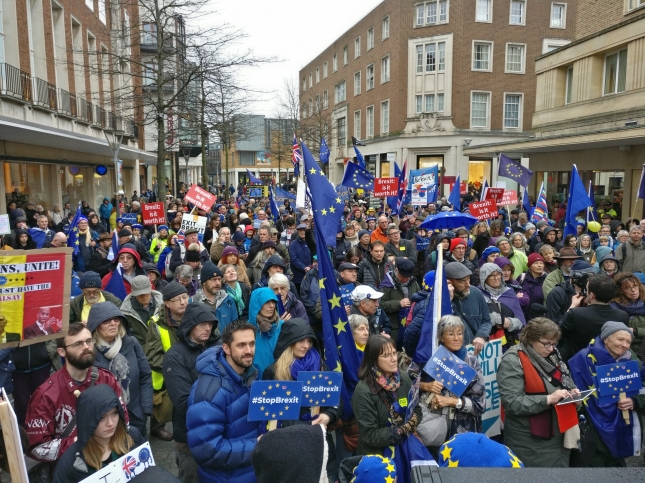 Tim Skeet from Britain for Europe, the organisation giving a national voice to over 50 local groups, including Devon for Europe, said afterwards,
"A truly inspiring event, at which I was honoured to speak. Such energy and fire in the eyes if a British public aghast at the madness of a policy that will help no one. Complacency is the enemy but Exeter and the Southwest spoke loudly today."
Devon councillors from many parties, including Martin Shaw, Jacqi Hodgson, Martin Wrigley, Emma Brennan also shared the stage to voice their concerns for the impact on the NHS, the environment and jobs. Emma gave a rousing and much appreciated rendition of "Who do you think you're kidding Mrs May" to the Dad's Army theme tune.
Martin Shaw, an Independent Devon County Councillor, said,
"I was elected because people were concerned about our local NHS, but the economic damage Brexit is causing will cut the money available for the health service. It has already cut off the flow of European nurses and doctors to hospitals in the South West."
'Brexit has damaged our reputation as an open, tolerant country and diminished our standing in the world.'
Those present also heard the stories of those whose lives are already impacted or threatened by Brexit, including farmers and non-UK EU citizens presently living in stressful limbo.
Cheryl Cottle Hunkin and Margaret Boyde were able to give an Anti-Brexit farming perspective. Cheryl reminded the rally that the NFU had advised its members to vote in favour of remaining in the EU. She feared a non-agreement, resulting in sky-high WTO tariffs, for example 59% on the export of beef to the EU. Added customs checks mean more red tape would be created- not less. Margaret, who had farmed for a considerable period in France, added that farmers need to be anxious about their support payments, as it was only guaranteed until 2020. Amongst her many other worries was the possibility of US food coming to Britain, having been raised with much lower welfare standards, so resulting in "chlorinated chicken" being imported.
Veronique Martin and her husband Miles gave a compelling account of what life was like for those who, in all good faith, had moved to the UK as a member of the EU and now felt themselves to be, "In limbo". Veronique said,
"The limbo we've been forced into over the past 20 months is tearing us apart. It's destroying us and our deep love for this country."
Martin added,
"The one country I can live in is the one country my wife cannot live in"
The organisers very purposefully gave a platform to a group whose voices have been too little heard - the young. James Dart, from Exeter University said he felt both European and British. He was on of several speakers who referenced David Davis' comment that, "If a democracy cannot change its mind it ceases to be a democracy."
Summing up the day, Sir Graham Watson, former Lib Dem MEP and leader of the Group of the Alliance of Liberals and Democrats for Europe in the European Parliament from 2004-9, thanked and congratulated everyone for coming and Devon for Europe for their organisation of the day. He said,
"We have a hell of a job to be done. Everyone must write to their MPs, attend street stalls and do everything they can. We have 24 weeks to stop Brexit. In the Referendum the British people were sold a pig in a poke. We now need a Referendum on the final deal."
Quoting Ben Okri, the poet Sir Graham said,
"The romance of independence,
Of freedom, is stronger than the truth of unity.
That is why it took us no time to fall
And all of history and future history
To return."
Alex Pilkington, Chair of Devon for Europe, said, "With the government's own impact assessments showing unprecedented damage to the economy, the prospect of further de-funding of the NHS and with heightened tension with Russia and Trump's tariff war, more and more people are coming to the conclusion that Brexit will be very bad for Britain. The South West is set to pay a heavy price. As a region we have the highest percentage of exports to the EU compared to the rest of the UK. We firmly believe that democracy is an ongoing process and that in a democracy people must be given the right to change their minds. Especially now that the promises of the Leave campaign have been shown to be empty and false. The British people must have a final say on the negotiated Brexit deal, with the option to remain in the EU".
Chris Bray - 24 March 2018